A Soulful Tribute
Sep 08, 2022
The buck bounded forward, leapt once, straight into the car.
I watched the animal bounce backward twenty or thirty feet before it came to rest just past the shoulder on the grass.
"What happened, Daddy?" Linus asked, startled.
I tried to pull myself together.
"We had an accident, son," I answered. "A deer jumped in front of us and we hit him."
"I want to see him," Linus pleaded.
"I don't think he's going to make it, son," I said.
"I want to see him," Linus repeated.
I pulled the automobile over to inspect the damage—or perhaps more to collect my shaken wits.
The bent right panel, creased hood, and crushed headlight signaled how lucky we were.
Not so for the dying creature.
I honored Linus' request.
We turned around and made our way back to the shattered glass that marked the spot.
Two fawn-colored hooves swayed in the air as if to wave goodbye, then settled.
"He died, Linus." I said. "That makes me very sad."
For the first time I noticed that Linus' car seat sat 45 degrees askance, away from the seat belt.
"It's okay, Daddy," Linus answered. "Maybe he'll get a new body."
I drove on, numb and shaken, rattled inside, unclear of my own emotions.
Such fragility, such a delicate balance.
Here one moment, gone the next.
What message do I glean from this?
What am I supposed to learn?
I'm struck by the importance of each life, of each precious moment, of each encounter, of the need to cast aside pettiness and judgment, selfishness, and narrow-minded views.
"Remove your blinders," cried the noble beast, "Make your eyes as big as mine."
I feel paralyzed, locked with my chin on my hand.
Only two hours have passed.
My mind feels like molasses.
I draw blank after blank.
Gratitude wrestles with sadness, a search for meaning with a vacuous emptiness—or a state of shock.
I hear the traffic outside.
I hear birds speaking the ways of birds.
I hear the heater pumping out warm air.
I cross and uncross my arms.
I tug the stubble on my chin.
I sit and stare and attempt to process—maybe too soon.
No significance—at least not yet.
Nothing—except a promise burned deep inside.
"I won't forget," I vowed.
That's A View From The Ridge…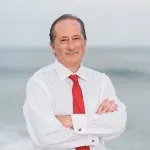 Best-selling author, Ridgely Goldsborough has written 19 books to date, 5 on emotional intelligence, and has developed a phenomenal program called CustomerConversionFormula.com that you can get absolutely free as a member of the Groove community. Also, visit Mind Types for a FREE and fun quiz that will give you a new perspective!