Earn Respect With The Truth
Apr 10, 2023
The crowd cheered as the young man walked across the stage to claim his award as the company's top producer.
He accepted the microphone, looked over the audience and faltered, an obvious, pregnant pause that brought a hush to the room.
I watched him confront his fear, wrestle with the doubt that invariably creeps in.
It took him a moment to re-commit.
"The last three months hit me pretty hard," he began. "And I feel the need to share a piece of my story—though I'm not sure why."
His usually confident, even cocky demeanor, shed its bluster.
"About four months ago, one of my colleagues called me about this new marketing system, an outbound fax blaster that could reach thousands of potential customers at very little cost." He paused. "I checked it out, got excited and signed up.
Long story short—after thousands of faxes, a process server showed up to deliver some papers.
It seems that what I did was illegal.
One of the companies that received a blast complained to the attorney general who filed a lawsuit against me—not just for that fax, but with a dollar punishment for every one sent out."
"I failed to do proper research, didn't pay attention to the details and now face prosecution with enormous potential liability."
200 people sat riveted to their chairs.
"As some of you know, I recently moved up here from down south." He ran his fingers through his hair.
"I stored my stuff in my old office, which we closed down.
When I drove back to pick it all up, I found that everything except my computer and the clothes I brought with me, was gone.
Every memento, every memory and every possession had been stolen."
"It gets better. As some of you know, I drive a sports car—black on black convertible with the works, my pride and joy.
His voice cracked a little.
A memory flooded his mind.
"As sometimes happens, a guy cut my car off.
Instead of letting it go, my ego kicked in.
Coming up an on ramp I stomped on the accelerator, missed the final turn, lost control at 85 miles an hour, spun across three lanes, hit the guard rail and bounced back across two—in the middle of rush hour.
I totaled the car and by some weird fate, walked away without a scratch."
The room sighed with relief.
"Because I had been on the road, I didn't open my mail and missed an insurance payment. I don't know what's going to happen."
"In three months, I got sued, lost everything I owned, wrecked my car."
"We all face challenges," he smiled, "some tougher than others.
I guess I wanted to share mine with you.
He left to a standing ovation.
Standing in the back of the room, I realized how much respect that young man earned.
He confronted his fear, publicly admitted his mistakes, and never quit, despite the obstacles.
That day, he won much more than a trophy.
That's A View From The Ridge…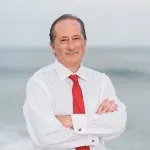 Best-selling author, Ridgely Goldsborough has written 19 books to date, 5 on emotional intelligence, and has developed a phenomenal program called Partner Attraction Formula that you can get absolutely free as a member of the Groove community. Also, visit Mind Types for a FREE and fun quiz that will give you a new perspective!