Fact or Fiction
Mar 23, 2023
What about this business of "perception equals reality"?
Any truth to it?
My Dad, when sassed by any of us kids, often said:
"Oh, I'll make a believer out of you."
As I look back, I chuckle with the realization that he so often did, with those simple words.
We never knew whether he had the gumption to back up his threats.
Our perception created the reality that he could and would if we pushed too far.
A few years later, I went through a "fake it `til you make it" phase, a time when I didn't really have either the skill sets or the confidence required to achieve the lofty goals that I set for myself.
I had to don the coat of courage, swallow the fear of failure and forge forward until experience began to replace false confidence with true conviction.
If I hadn't leapt without looking too much, I might never have leapt at all.
In my case, ignorance did turn into a small piece of bliss.
Mahatma Gandhi once said:
"Man often becomes what he believes himself to be. If I keep on saying to myself that I cannot do a certain thing, it is possible that I may end by really becoming incapable of doing it. On the contrary, if I have the belief that I can do it, I shall surely acquire the capacity to do it even if I may not have had it at the beginning."
Sometimes we have to "talk ourselves into things," into taking action toward our goals and dreams:
"I can do this. I know I can," (even if you don't!)
These words lead to action.
Action yields results, which in turn create an experience that builds belief.
That belief fuels further action, which in turn drives further results.
The cycle begins to self-create.
The more action you take, the more experiences you have, the more belief you build.
With putting on that coat of made-up courage and deciding to take action, any action.
Pull out the mothballs and dust off the coat.
Tell yourself that "I can" and if it sounds too funny, laugh a little and say it again with a smile.
Wear the coat around for a while, then take a walk on the wild side, go for it—whatever it is.
You'll find that your confidence will grow quickly, the coat will begin to feel natural and comfortable as if you were supposed to wear it.
The next time someone asks you whether perception equals reality, you just might find yourself answering:
"I'm not sure, but it works for me."
That's A View From The Ridge…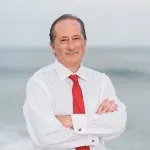 Best-selling author, Ridgely Goldsborough has written 19 books to date, 5 on emotional intelligence, and has developed a phenomenal program called Partner Attraction Formula that you can get absolutely free as a member of the Groove community. Also, visit Mind Types for a FREE and fun quiz that will give you a new perspective!