That Perfect Day
Jul 07, 2022
A tribute to a dear friend…Carlos Deupi…
It took almost two hours to navigate the treacherous snow banks, the ice, the slippery roads that wound around the mountains from Lake Tahoe to Kirkwood, California, on a huge powder day.
We arrived with the early powder hounds—though not that many. It was a weekday and the mountain was largely ours, in two and a half feet of champagne powder—light, wispy, fluffy, thanks to Arctic Mother who made it so.
Hopped on the lift, lightly shivering, though warmed by the intense emotion of first tracks—that crazy feeling that takes over—like the discoverer of old, first encountering the Rockies or the initial pioneer that jets down the white waters of the Colorado river—such a space of anticipation, of I-just-can't-wait-to-do-this combined with a pinch of will-it-be-as-good-as-I-anticipate fear.
We headed left into a bowl. Literally no one there. Carlos, his brother Victor and I stand at the top of the hill and glance at each other—is this for real? In unison, we drop in, powder flying over our face, bouncing on clouds of cotton, in perfect harmony with the mountain, ecstatic, crazy with joy, until we reach the bottom, look again at each other and throw ourselves back into the snow, laughing hysterically, unable to talk, deep in light, delicious powder that covers our faces—unbelievable—the best run of our lives.
And yes, because of our delirium, we had to hike out. In no way did that diminish our extreme bliss.
I will never forget that day. It was, bar none, the best ski day of my life.
The call that rocked my world, from Carlos' brother.
"Hey man, it's Victor…and I need to share something really horrible."
"Okay," I answered, with little understanding.
"I'm in Denver, and Carlos has had a massive coronary. He was at Snow-mass, went to lunch, went back on the slopes, and had a heart attack. The medics got to him, kept him alive 3 or 4 times on the way to the clinic, though he's not in good shape at all—altitude, brain swelling—we don't have much hope." Victor paused.
I didn't know what to say. I did what I could, offered help, asked if there was any way I could support.
"No," Victor said. "It's horrible, though if there is any positive, he went out exactly as he would have loved—either on the slopes, drinking wine, or with his beautiful wife."
It didn't make me feel much better though I chuckled with Victor for a moment.
What fragility. What nobility. What reality that confronts us all when we least expect it.
There is nothing that I like about this. Nothing. The only thing that remains is the harsh, brutal understanding that we all have our day—on every level—and that every day you are given matters.
Carlos, my friend, my brother, while I am angry at you, on the one hand, and mad at myself for not being able to help, I will choose to remember, among many other amazing memories with you—that perfect day.
I love you, man, miss you and always will…
That's A View From The Ridge…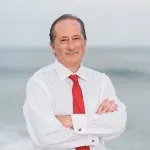 Best-selling author, Ridgely Goldsborough has written 19 books to date, 5 on emotional intelligence, and has developed a phenomenal program called CustomerConversionFormula.com that you can get absolutely free as a member of the Groove community. Also, visit Mind Types for a FREE and fun quiz that will give you a new perspective!