This Heart's Not For Sale
Aug 19, 2022
After yet another frigid, Northeastern winter, my parents decided to migrate South.
Enough of frozen pipes, black ice and shoveling snow only for it to fall again and cover yesterday's backbreaker.
Off to Florida, first stop Perdido Key, to search for property near us.
We located a beautiful waterfront spot on the bay, with a long pier extending West into the evening's setting sun.
The prospect of boating and fishing, iced tea on the veranda and another generation of wisdom to share with our children, sent us all into a tizzy.
The Seller, firm on a price she considered fair, would not take a dollar less than listed.
After reviewing comparables, my Dad agreed to pay what she asked.
Dad needs a reasonable period to sell his current house in order to buy a new one.
The Seller doesn't want to risk that Dad's old house won't sell and pull her house off the market.
Dad won't take a chance on putting his house on the market without a guarantee that the new home will remain available.
Homes in Maryland take 3 to 4 months to close.
In Florida, sales happen in 30 to 45 days.
Insulated by real estate agents, I watched both sides jockey for position.
Frustrated, I began to ask myself what lurked behind the gamesmanship.
Buyer willing to pay full price.
As I cycled to work on a hunch I popped by the new house to gather inspiration from the view across the water.
The owner of the neighboring lot, sat in his front yard surveying his land.
I hopped off of my bike, introduced myself to Steve, an older gentleman with a lovely twinkle in his eye.
After we exchanged names, I told him that Dad hoped to purchase the house next door and was working on finalizing terms with the owner.
In the very next breath, unsolicited, and with no background information on our dealings, Steve exclaimed:
"Gotta' get their hearts together, huh?"
What a wondrous intuition!
If we can break down the heart barriers, we'll melt the rigidity and celebrate Thanksgiving on the dock.
How can we better communicate our heart?
What could we say or do to show our intent and commitment?
I don't yet have the answer nor can I predict the outcome.
We'll look inside, do our best and say a few prayers.
We may lose the house but we won't lose the lesson.
When it comes to communication, we start from the heart.
That's A View From The Ridge…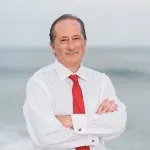 Best-selling author, Ridgely Goldsborough has written 19 books to date, 5 on emotional intelligence, and has developed a phenomenal program called CustomerConversionFormula.com that you can get absolutely free as a member of the Groove community. Also, visit Mind Types for a FREE and fun quiz that will give you a new perspective!