Too Late For A Report Card
Aug 05, 2022
The old man sat in the dark swaying back and forth in his chair in the living room, an all too familiar place of late.
He could not sleep and wondered when sleep might once again come to him.
In his mind, he replayed the passages of his life, some with a smile, others with a tear, all shaded by this melancholic numbness that urged him to reach for his happy pills—an urge he resisted at best tenuously as the clock ticked the night into dawn.
Nighttime clearly brought out the worse.
He wondered at what fork he branched the wrong way.
He knew he had always done his best, or so he told himself.
"I guess my best wasn't good enough," he thought, tasting a bitter bile that soured his mouth and burned the back of his throat.
For a moment, he flashed on Christmas past, that fantastical day when suspended disbelief carried his children to a magical place of infinite possibilities—shrieking with glee, glaring in awe at a plate of half-eaten cookies and an empty milk glass, parading through the living room in new regalia, singing songs, beaming with astonishment and a pure innocence that for a brief, fleeting moment, created space to dream.
"That bubble burst quick."
He brought himself back to darkness present.
Though he tried to resist it, the familiar gnawing took over him and he began to replay each of the conversations that led to his divorce—the final one, the final-final one, and the one after that.
The tape trapped him on endless loop—a vicious, brutal spiral that heaped regret upon regret.
He bludgeoned himself with the unanswerable question.
"What more could I have done?"
An acidic paste coated his tongue.
"I need some water," he said out loud, interrupting the hushed suffering and shocking himself.
"Why am I doing this again?"
The same, tired routine, night after night.
He wondered where she slept, if he could still picture her face as she rested with her eyes closed and her hand under the pillow.
For a second, he saw her.
"I'm kidding myself," he realized.
He pulled his heart from the flames of his own creation and focused on a gray spot on the far wall.
A few months later, the old man died.
She showed up at the funeral, with their children, though the face behind the black veil revealed nothing of the inner torment she felt.
"I have to be strong for their sake," she inwardly demanded.
Later, much later, she would let herself feel.
She would rock, in her chair, in her own living room.
That's A View From The Ridge…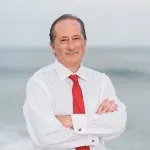 Best-selling author, Ridgely Goldsborough has written 19 books to date, 5 on emotional intelligence, and has developed a phenomenal program called CustomerConversionFormula.com that you can get absolutely free as a member of the Groove community. Also, visit Mind Types for a FREE and fun quiz that will give you a new perspective!